$1.9 Million Win for Spitler & Williams-Young
On what seemed to be a typical workday, our client was performing the duties of his job as a Utility Worker at a commercial roofing plant. His responsibilities included cleaning the dryer ducts, power washing the floors, and dumping scrap. To dispose of scrap, he would transport the scrap on a forklift and, prior to lifting the load over into a dumpster, would evaluate the fullness of the dumpster and where he could place the load.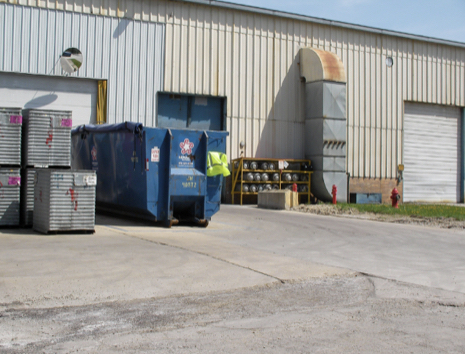 This particular day ended up altering this hard-working man's life forever. As he was standing on the ladder rungs assessing the dumpster, a driver for a propane gas company who was making a delivery to the plant failed to register our client's presence. The delivery driver backed into the dumpster while he was standing on it, despite that he was wearing a neon safety vest and brightly visible in the rear view of the truck.
Our client suffered 14 different medical conditions as a result of the incident. He spent 10 days in the hospital, followed by 27 days in a rehab facility. He has since had 11 surgeries.
In addition, his quality of life has been severely impacted. He was left with emotional trauma and is now under the care of a psychologist. He was unable to return to gainful employment, as his injuries made it impossible to return to the level of physicality required by his job. This client is no longer able to stand or walk for lengthy periods, making activities such as gardening or hiking out of reach. He even missed the birth of a grandchild due to his hospitalizations.
The psychological and financial impacts cannot be left unaddressed in a case like this. In submitting his case, attorney Marc Williams-Young filed a personal injury suit against the driver. In addition, claims were filed against the propane gas company under a concept called "respondeat superior," which holds that a party is responsible for the actions of their agents, in this case being the gas company's contracted driver.
In a four-day trial, the jury awarded $1.9 million to our client and his wife. This includes $400,000 for economic losses resulting from lost wages and medical bills and $1.4 million for non-economic losses accounting for permanent loss in quality of life to him, as well as another $100,000 in compensatory damages awarded to his wife. Although this compensation cannot return this man to his health before the accident, it will help to ease the deep consequences it has had on his life.
The act of the delivery driver failing to check his surroundings cost our client his health, quality of life, and continued employment. Negligence can have catastrophic consequences on your life. If someone has caused you bodily injury, our office can provide you the skilled representation you need and deserve. Contact us at info@spitlerwilliams-young.law or 419-242-1555.
---
Related Articles